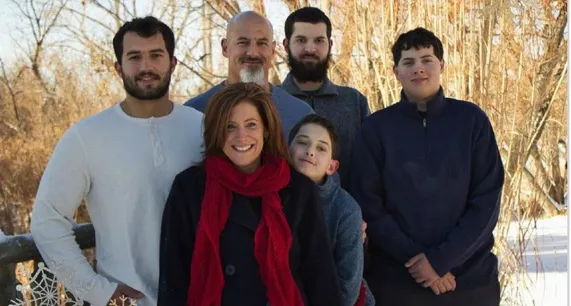 Dr. Michael Georgiades was born in New Jersey, but has lived in different locations in Europe, including Paris, France and Holland, and in the United States, including Baton Rouge, Kansas City, Virginia, and West Virginia.
After graduating from high school at the American School of Paris, Dr. Georgiades attended Virginia Tech for his undergraduate studies and then Virginia Maryland Regional College of Veterinary Medicine, from which he graduated in 1994. His first job was in Charleston, West Virginia where he spent 3-1/2 years fine tuning his veterinary knowledge and learning about exotics. He also met his wife, Rebecca, a native of Cleveland, Ohio, in West Virginia. They married there in September of 1996.
In September of 1997, the Georgiades moved to the Denver area, where Dr. Georgiades took a job with Elmfield Veterinary Center. After 2-1/2 years, he decided that opening his own practice was in his family's best interest, and in December of 1999, Just For Paws Veterinary Hospital was born.
Dr. Georgiades has five children. Matthew was born to Michael and Becky in 1998, Nathaniel was born in 2000, Nicholas arrived in 2003, and the last addition, Zachary was born in 2007. The other "child" is Murph, a lab-pitty cross that the Georgiades' adopted in 2019. Murph was being fostered by one of JFP's nurses, Adriane Traver. Dr. G just fell in love with him whenever he came to the clinic so they decided to adopt him. It was the first true puppy for most of the Georgiades boys. Murph loves to wrestle with the boys and go for walks, as long as it is not in the dark. He rapidly became the sixth boy in the house. Poor Becky!
Dr. Georgiades belongs to several associations including the AVMA and AAHA, including another 3-year-AAHA-certification for the hospital in 2021. He is currently interested in weight training, home remodeling, and flag football and has in the past participated in rugby, volleyball, and bodybuilding.